Visit Alnwick Castle and Gardens
A gardeners choice for all seasons - open to the public year round.
THE ALNWICK GARDEN - Northumberland
See all holiday cottages in Alnwick, Northumberland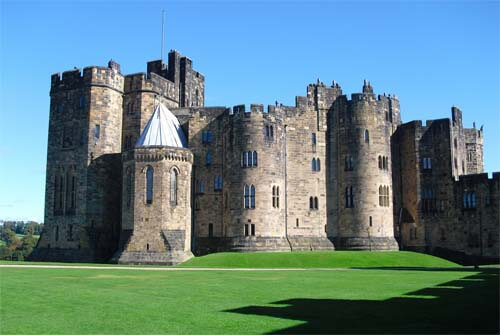 From derelict and completely empty site to an incredible floral and water feature world in just a decade, the Duchess of Northumberland transformed the Alnwick Garden into what is said to be one of the most exhilarating contemporary gardens in the world.
It has been variously described as 'a garden for gardeners', a 'horticultural miracle' and a 'true floral wonderland', with modern, yet graceful designs, that are nothing short of incredible.
The garden is an all-year round one. There are bulbs and blossoms during spring, roses and delphiniums for summer, the wonderful colours of autumn and the topiary, bamboo and other evergreens during winter.
However, Alnwick Garden is not just a 'come and look' garden. It's a family outing, open all year round except on Christmas Day! And if you are holidaying or taking a short break in the area, it's a total must-see garden. Visitors on self-catering breaks have been known to visit one day and then return another to furiously take copious notes and photographs of what they see.
This thrilling and contemporary garden is a proverbial riot of colour and scents, especially in season in the magnificent Rose Garden, where shrub and climbing roses sit with honeysuckle and clematis reached by pergola-covered paths - the home of the world-famous Alnwick Rose. There are simply acres of plants, the unique Poison Garden, with its 'dangerous' plants and the memorable water sculptures and displays of the Grand Cascade (the largest water feature of its kind anywhere).

But Alnwick Garden isn't just a place for the envious green-fingered or for families to look at in wonder. Aside from the fabulous landscaped gardens, you can roll your sleeves or trousers up and paddle in the rills, collect water in the mini tractors, try to evade the Grand Cascade's jets to avoid a soaking, and investigate the many wonderous ways water moves in the Serpent Garden.
And one of the largest wooden tree houses in the world is there to be explored and played in with rope bridges, walkways and the Bamboo Labyrinth, with its strange inscription, 'Only dead fish swim with the stream'. There is also a regular programme of hands-on workshops, tours and speciality performances to enjoy, together with a dining area in the Pavillion and visitor centre, where you can relax, enjoy the best in local, fresh food and even, if the mood strikes you, take some time out to learn more about the vision for the garden and the work that goes into maintaining this magnificent garden.
Must see favourite place in North East highly recommended for visitors of all ages, try to spend a day here at Alnwick Gardens - wonderfully inspring - 'one of the most exhilarating contemporary gardens in the world'.
Hand-picked quality self-catering cottages
In partnership with