North East England tourist information & travel guide
Walking, cycling, friendly pubs, sandy beaches - visit Northumberland!
Holiday cottages no matter what!
View all self-catering holiday cottages in North East England
Family holidays, visiting relatives, half term break touring North East of England, looking for wedding accommodation, a walking holiday, cycling vacation - so many reasons to rent a house in North East.
Arrive to find your holiday let vaction ready! A turn key retreat clean and well equipped house.
Location is very important - proximity to holiday activities, shops, pubs or restaurants (if you want a break from self-catering).
Look for facilities that you may enjoy on holiday, for some people the size of the beds matters - others want to be able to dine outside.
Well equipped kitchen
Walk in showers
Wood burning stove
Real fire
Games rooms
Indoor gym
Sauna
Swimming pool
Pet friendly
You will know your self what equipment you need to bring for holiday activities - write a check list:
Hiking - walking boots
Tennis - rackets and balls
Dog - lead, dog bed, dog bowl, dog food
Cycling - road bike or mountain bike
Angling - fishing rod
Bird watching - binoculars
Cooking - food!
Reading - books
Beach - swimming costume, bucket and spade
Walking holidays in Northumberland
Country Walking Magazine said that Northumberland is 'the best place for walking in the country'. Based on the sheer variety and quality of its footpaths, bridleways and walker-friendly self-catering holiday cottages in the area, this is not an idle boast!
And it makes no difference was level of ability you have, whether you are a serious walker or a confirmed amateur ambler, whether you want a quiet, romantic stroll along one of the award-wining sandy beaches or a full day out to include clambering and climbing, you find it all in this terrific walkers' county.
There is a wide-ranging network of excellent footpaths throughout the county. This network crosses open country and farmland to connect villages, towns and hamlets in the county, providing both easy short distant rambles and the more demanding long distance trails. However, you'll find an ample supply of welcoming pubs and inns offering the best in home-cooking, to supplement your self-catering.
And there are ample opportunities for educational guided walks where you have the opportunity to learn about the region's history, heritage and wildlife.
Included in the much longer option is what has possibly become the most iconic walk in the UK - the 73 miles of Hadrian's Wall. The main Pennine Way starts at Hadrian's Wall, crosses the Cheviot Hills and the Northumberland National Park, finishing in Scotland.
The Northumberland National Park starts at Hadrian's Wall and the Cheviot Hills, through Breamish and Coquet Valleys, on to Wark Forest down to the edge of Kielder Reservoir. Many of the holiday cottages are along this famous route. There is a multitude of terrain types from woodland to moorland and valley to hill country. There are plenty of day (or less) routes, many of them signposted, and especially if you have the convenience of self-catering accommodation, you can try out different mini routes over the course of several days without having to worry about annoying timetables for meal times. Perhaps take a picnic or pop into one of the many welcoming and cosy hostelries along the way.
And your walk is not just confined to walking! You can try otter spotting in the Harthope or Breamish valleys - the wildlife is amazing. Or maybe you might like to take an archaeological trail through the Cheviot Hills and trace the Roman heritage of the region back to the fiery Empire days.
Northumberland's Heritage Coast offers fins, spectacular views, great beaches and very impressive scenery. For example, the short walk (approximately three miles) from Seahouses to the Castle at Bamburgh presents quite wonderful views of the Farne Islands, noted not only as the most famous Sea Bird Sanctuary in the British Isles (they also have a large colony of Atlantic or Grey Seals), but also for perhaps one of the most famous islands in the area, Holy Island or Lindisfarne. Craster to Dunstanburgh Castle is an even shorter walk of one mile, providing equally wonderful vistas. So you don't have to expect a walk in Northumberland to be an all-day (or longer) effort.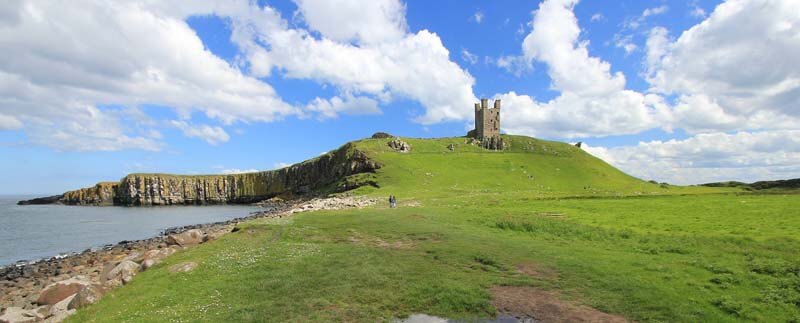 Hand-picked quality self-catering cottages
In partnership with