Stay in coastal towns and villages - seaside self-catering in Northumberland.
The North East has stunning cliff tops and beautiful award winning sandy beaches.
Public beaches and parking along North East coastal route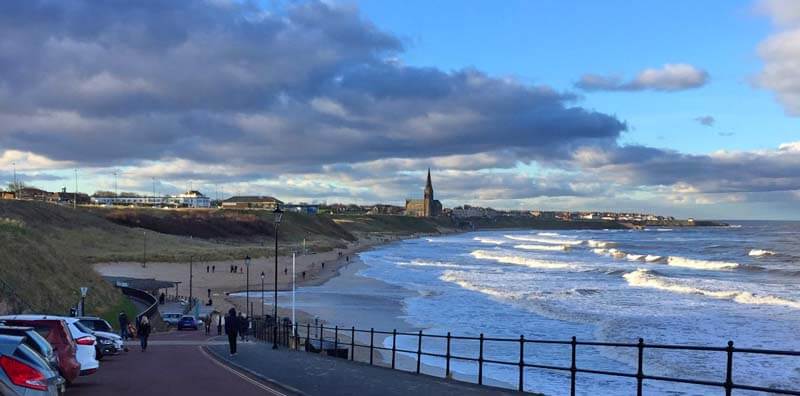 View all self-catering holiday cottages in North East England
South Shields
Seated where the Tyne meets the North Sea, South Shields is a charming place, with a busy town centre, vibrant shopping, bustling market, and friendly nightlife. Historically a place where ships ran aground, two piers were built to counter the dangerous shifting sands. For a good view of the piers and the seafront, climb Cleadon Hills above the city. Staying in one of the many coastal holiday cottages in South Shields provides you with a mix of activities. The children will love making sandcastles on one of the finest beaches in the country. There are fun fairs, a paddling pool and a miniature steam train. Have an old-fashioned ice cream at Minchella's before heading home to your self-catering cottage to relax. Or if you wish to dine out in one of the many, reasonably priced restaurants, you'll find a variety of sophisticated flavours on offer including some great seafood.
Tynemouth Priory and Tynemouth Castle
This towering priory that stands invincible on a hill is a great place to visit from your vacation cottage. Dating back to the year 1200, the priory has survived remarkably to dramatically dominate the landscape in the manor of a castle more than a religious building. There is also the nearby Tynemouth Castle located on a rocky headland (known as Pen Bal Crag), and overlooking Tynemouth Pier. The towers, gatehouse and keep are surrounded by a moated pit.
Bede's World
The fascinating life of the Venerable Bede (AD 673-735), Benedictine monk, author and scholar is exhibited at Bede's World, Jarrow, where Bede lived and worked 1300 years ago. The interactive Age of Bede exhibition is situated in a fabulous new museum building on the site of an old Anglo-Saxon monastery. As well as celebrating the life of Bede himself, there is a herb garden, reconstructions of timber buildings and an Anglo-Saxon Farm. It is convenient to get to from many holiday lets in the area, situated just 2 minutes from the A19 Tyne Tunnel.
The Leas
The National Trust's two-mile stretch of coastline stretches from here to Lizard Point and passes Souter Lighthouse. This is an area of special scientific interest not just for ornithologists. Rent one of the many seafront holiday cottages in The Leas and you might, observe nesting shelduck, skeins of geese, kingfishers, herons. You may even be lucky enough to spot an otter playing in the bay or spy roe deer on the shore. This stretch of coast is great for children's activities and is tailormade for cycling and walking along South Shields promenade to Marsden and Whitburn.
Littlehaven Beach
Littlehaven is a lovely place to stay with really golden sands. A holiday in one of the many first-class self-catering houses could provide you with a view of this unusual artwork, 'The Conversation Piece' by renowned Spanish sculptor Juan Munoz. The 22 stone figures, each weighing about a quarter of a tonne appear to be deep in conversation.
Marsden Rock and Bay
This was one of Britain's most fantastic arched rock formations until tidal erosion caused the arch to collapse in 1996. The smaller arch was deemed to be a safety hazard and the National Trust took the decision to demolish it two years later. Fortunately the100 foot stack of perliclase and limestone that remains is still home to thousands of pairs of Kittiwakes, Fulmars, Gulls and Cormorants. Marsden Bay has a good seafood restaurant which affords striking view of the bay. Enjoy a drink in the friendly bar after a long day at the beach. Many holiday lets are a short stroll from the beach so you can enjoy the sun setting over the bay from your cosy cottage base.
Sandhaven Beach
This is an award winning beach that is renowned for its cleanliness and safety and which has a beautiful sand duned backdrop. It's extremely popular with families and as a result, vacation cottages in Sandhaven are very geared up for those with young children. If you tire of lying on the beach and watching the world go by, then the large Ocean Beach Pleasure Park provides thrills a plenty. For lunch, there are many seafront hotels or pubs offering exceptional fish and seafood. The North or South Marine Parks, with a boating lake, miniature steam railway, bowling greens and gaggles of ducks and swans make another good activity if the weather isn't settled enough for swimming. The Ampitheatre holds free music events throughout the summer. There are some lovely coastguard properties in the area, full of maritime character and ideal for large groups or families to stay in right by the sea.
Hartlepool
Further down the coast, the attractive seaside town of Hartlepool has acquired an impressive multi-million pound Marina, which is to be the venue of the tall ships race in 2010. Sort out a ringside seat in advance by looking for one of the area's beach side cottages to let in Hartlepool.
Hand-picked quality self-catering cottages
In partnership with