Holiday cottages in the North Yorkshire Moors
Rent rural cottages and stay in The North York Moors National Park
NORTH YORKSHIRE MOORS RAILWAY
View all self-catering holiday cottages in North Yorkshire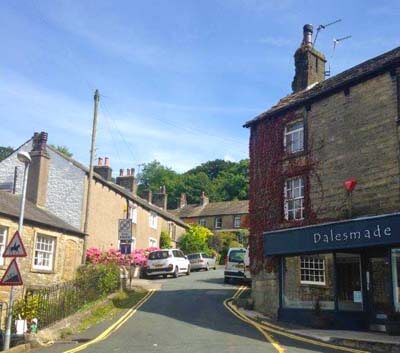 For those thinking of taking a step back in time to "'ow it were", the wonderful attraction that is the North Yorkshire Moors Railway is well worth a visit. You can enjoy a truly memorable day as you travel aboard the snug, wooden-panelled carriages, pulled along by glorious steam engines through attractive, and some quite famous, rural stations.
Staff are not only friendly and informative, but smartly dressed in the uniform of the time. In fact, the entire railway preserves its authenticity and charm completely.
The railway makes an ideal starting point for a really great day out. It makes no difference whether you just want to take in the splendid journey over the moors to the attractions of Whitby, fancy a spot of hiking or desire to simply village-hop through the region.
Of course, you gain the best of both worlds if you are self-catering in the region. You can cover as much or as little ground as you want, without having to worry about dinner times or access to your room. And you can always take a delicious home-prepared picnic with you, as there are plenty of places along the way to stop off at and enjoy your meal. And many of the places along the way are totally dog-friendly, so the four-legged member of the family needn't feel neglected.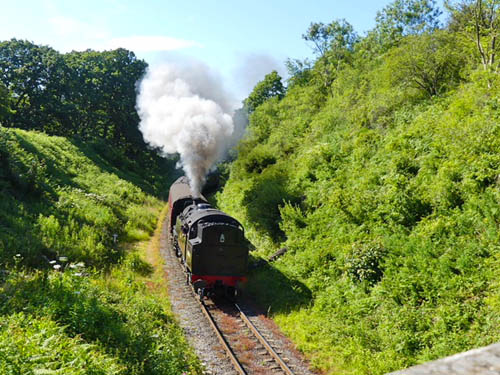 Whitby itself is a great family day out, with its beaches and amazing coastline, harbour, winding town streets, an ancient abbey, and of course, the legend of Dracula!
However, other stops of note along the way include:
Grosmont. This is a junction with the main rail network, and its engine sheds are where the steam locomotives are restored. It's also has traditional tea rooms.
Goathland is THE region's celebrity station, known as the Aidensfield stop in YTV's long-running, Sunmday-night Heartbeat drama series. But as any Harry Potter fan knows, it also made its mark as Hogsmeade in the first Harry Potter Film. The delightful village is just a few minutes walk from the station. Walkers and hikers may want to make a request for a stop at Newton Dale Halt. This tiny halt provides walking and wildlife fans the perfect place to get their hiking boot on, take out the cameras and access the adjacent National Park.
Levisham is a 1912 style station, surrounded by the magnificent Yorkshire Moors and can only be reached by one solitary hill road. Uniquely, when trains are running, it's also home to an artist in residence.
Pickering, perhaps a better known North Yorkshire town, has very much a village atmosphere, with a charming 1930's style and decorated station, perfect as a starting point for your steam train day out.