Visiting or staying in Durham
Durham City is a UNESCO World Heritage Site
Renting a holiday cottage in Durham? - Walk in the Durham Dales and visit Durham Cathedral
View all self-catering holiday cottages in Durham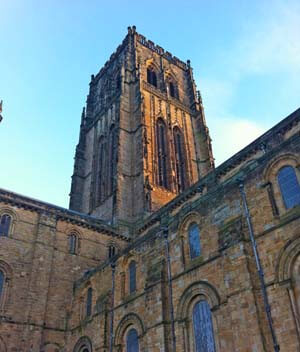 Whether you're renting a vacation home in central Durham or based in rural cottage, you should see Durham Cathedral, the city's most famous site and one of the best examples of cathedral building in the country. It is notable for its innovatory Gothic style - all pointed arches, corrugated vaults and soaring buttresses.
Durham Cathedral was erected swiftly beginning in 995 by Lindisfarne monks who had fled their island home when the Danish Vikings came calling. The interior has a cohesive style not often seen in the medieval period.
The Cathedral is familiar to many children as it featured in Harry Potter's Hogwarts School of Witchcraft and Wizardry! Popular family holiday highlight!
Crook Hall
A short stroll from many 5 star holiday homes in Durham's bustling centre, is the 13th century Grade I listed Crook Hall, a highly unusual union of mediaeval, Jacobean and Georgian architecture on the edge of the glorious gardens. Refuel in the tearoom with the lovely terrace or enjoy the grand dining room with its Georgian fireplace.
Cycle rental is easy in Durham and cycle paths are well laid out. The Durham coastal footpath runs 11 miles along the shore with fabulous beaches and amazing smooth glass pebbles can be found amongst the stones.
North of England Open Air Museum
The area around Durham is rightly popular with families, and there are endless days out that children of all ages will love. If you are looking for a holiday cottage for a family, you will find many that are child-friendly and well equipped with cots, high chairs and small beds. Just 12 miles north of Durham is the Beamish Open Air Museum that nestles in over 300 acres of countryside. You can take an old tram around the authentic reconstruction of an Edwardian north-eastern market town, visit a hundred-year old colliery with pit cottages where you can learn how miners and their families lived, and buy your ticket in an Edwardian railway station. There is also an old home farm.
North Pennines
The dazzling landscape of the North Pennines contains plenty of self- catering cottages that ooze character – many with real log fires. Situated amongst beautiful meadowland, rivers, heather-strewn moors and peat bogs are cottages with real old world allure and spectacular views. Stay in a lodge in a secluded forest that is home to increasingly unseen wildlife. Four-fifths of England's red squirrel population is found here as are endangered otters and species of rare alpine plants. Or you might want to be nearer village life. Rent a honey-stoned cottage in the village of Blanchland, with an Italian- inspired piazza that has appeared in many period dramas. Or stay in Allenheads, England's highest village with a fascinating lead mining past that you can read about in the heritage centre. The North Pennines has been named an Area of Outstanding Natural Beauty (AONB) since 1988, and is also a UNESCO Global and European and Global Geopark that actively promotes environmentally aware tourism. There is an increasing range of eco-friendly cottages, equipped with solar panels and wind generators so you can keep your holiday green.
Hand-picked quality self-catering cottages
In partnership with