What to do and see when staying holiday accommodation in Northumberland.
Alnwick Garden and Castle, Hadrian's Wall Country, Bamburgh Castle & Holy Island of Lindisfarne
Northumberland and Hadrian's Wall Country
View all self-catering holiday cottages in Northumberland
Northumberland is said to be England's most serene county – its giant skies and alluring sweeps of horizon arch over some of the most unspoilt scenery in the UK. The long pale beaches, tranquil open countryside and serene valleys that stretch from Hadrian's Wall to the border with Scotland make it a part of England not to be missed. Centuries of old border conflicts with Scotland have left their mark on this region making it fascinating to explore. Stay in one of the sympathetically restored holiday houses in Northumberland and travel by car, foot or bicycle to one of the many castles that guard the stunning coastline. Cross a tidal causeway, and see the enchanted island of Lindisfarne. Visit the vibrant cities of Newcastle and Gateshead or the historic city of Durham with its gothic cathedral, all within easy reach. The area is dotted with towns and villages such as Alnwick and Rothbury where cobbled streets and ancient marketplaces provide a warm welcome. You'll want to linger in Northumberland and relax in one of the many atmospheric Northumberland holiday cottages that are available to let in this awe-inspiring corner of England.
Places to tour and explore while on holiday in Northumberland.
Northumberland National Park
Hadrian's Wall
Alnwick Castle
Alnwick Gardens
Bamburgh Castle
The Farne Islands
Holy Island of Lindisfarne
Holiday activity equipment help list:
Hiking - walking boots
Tennis - rackets and balls
Dog - lead, dog bed, dog bowl, dog food
Cycling - road bike or mountain bike
Angling - fishing rod
Bird watching - binoculars
Cooking - food!
Reading - books
Beach - swimming costume, bucket and spade
Hadrian's Wall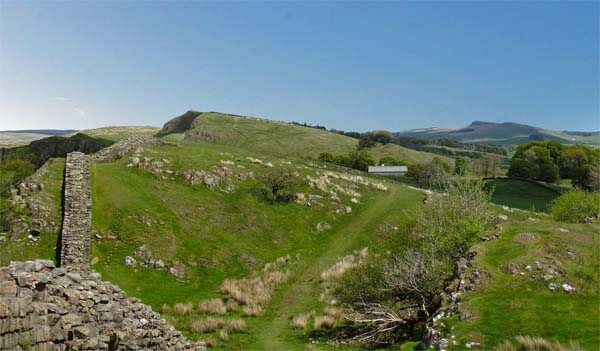 Hadrian's Wall snakes 80 miles across the Tyne Irthing and Eden Valleys between the cities of Newcastle and Carlisle. Built by the Roman Emperor Hadrian in around 122 AD, it took six years and an estimated million-plus cubic meters of stone to build. The area was a frequent battleground between the English and Scots - nearby Berwick-upon-Tweed was passed between the two countries 13 times until 1482. Hadrian's Wall stood between 8 to 10 feet wide and was 15 feet high. It was also flanked by a small ditch to the south, built to contain the rebellious Northern English tribes who might unite with the enemy. It is hard to believe such a tranquil spot was the site of so much blood spilling. Step out from your idyllic holiday cottage near Hadrian's Wall to walk the Housesteads to Great Chesters section for a gloriously rugged trip that will transport you back to past times and ancient dominions. The area is very popular with walkers and there are many cosy holiday cottages to rent which are perfect for a walking holiday, many with wood-burners which are very relaxing after a day's walk.
Plan your visit - Harian's Wall stretches through Northumberland, Cumbria and Tyne and Wear.
It is useful to hire a car to tour the area, many sites can only be accessed by foot. We advise sturdy footwear as much of where you visit will be in exposed areas and may be muddy and wet ! There are many picnic areas - ideal if you are staying in a self-catering holiday cottage as will have all the equipment to prepare the meals ahead.
In Northumberland it is hard to prioritise what to visit - our favourite places include:
Walltown Crags
Housesteads Roman Fort
Cawfields Roman Wall
Winshields Wall
Millennium Bridge
Sewingshields Wall
Temple of Mithras, Carrawburgh
Black Carts Turret
Brocolitia Fort
Chesters Bridge Abutment
Brunton Turret
Vindolanda
Planetrees Roman Wall
Heddon-on-the-Wall
Along the Roman trail, you will find Roman Forts, museums, temples, and of course many tea rooms!
Get prepared with knowledge before you arrive - here is a challenge quizz for you:
Where is Hadrian Wall?
Where is the best place to see Hadrians Wall?
How tall is Hadrian's Wall?
Where does Hadrian's Wall end?
Where does Hadrian's Wall begin?
How long is Hadrian Wall?
Now plan your day trips for your holiday!
Hand-picked quality self-catering cottages
In partnership with