Holiday cottages to rent in The Pennines and West Yorkshire
Self-catering holiday accommodation in West Yorkshire and the Pennines
View all North Yorkshire self-catering cottages
West Yorkshire is dominated by two diametrically landscapes, the metropolitan Leeds-Bradford conurbation, and the South Pennines. Leeds was a centre for the wool and weaving industries in the 19th and early 20th centuries, and has recently been overhauled and rebranded. So welcome to 'the Knightsbridge of the North', a mecca for everyone who doesn't want to go to London for haute couture, and is becoming increasingly popular for a self-catering city break near Leeds, and the Victorian arcades make a beautiful setting for some retail therapy. Leeds, which was once driven by steam, now jumps to one of the biggest nightlife scenes in the country. The restaurants can serve any palate, from sushi and sashimi, via French and Italian, to Modern British and steaks so large they fall over the side of the plate. As you would expect there is a pub or bar for all tastes, and many are licensed to 2am. Leeds has two art galleries, but the most interesting by far is the Royal Armories, situated on the banks of the rive Aire. This was originally built as an overflow from the Tower of London, but has since expanded to cover over 3000 years' of fighting technology and has something for everyone in the family.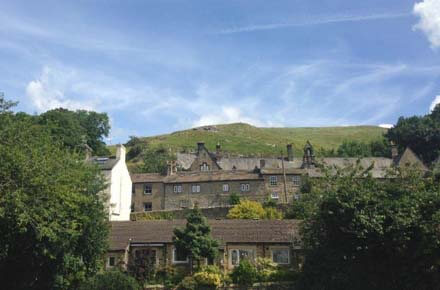 Bradford is only 9 miles west of Leeds and has a thriving Bangladeshi/Pakistani community and at the end of June they hold a colourful celebration of Asian dance and music. The Colour Museum is a little visited place, which tells the story of the town's history in the wool-dying trade, and has an excellent section on colour perception so you can tell how colour-blind you really are. Bradford is a honey-pot for curry lovers and to help you make your choice the Bradford Curry Guide has a web site.
On the outskirts of Bradford is the model village of Saltire, built by the Victorian philanthropist, and teetotaler, Titus Salt. There are rows of neat cottages beneath what was once the largest factory in the world and Salt spared no expense on his employees, with one exception; he refused to build them a pub. The vast factory, now Salt's Mill, has a permanent exhibition by the area's favorite son, David Hockney.